MINING: THE BRITISH ARGENTINE CHAMBER OF COMMERCE AND MERCADO DE METALES Y FUTUROS S.A. SIGNED A COOPERATION AGREEMENT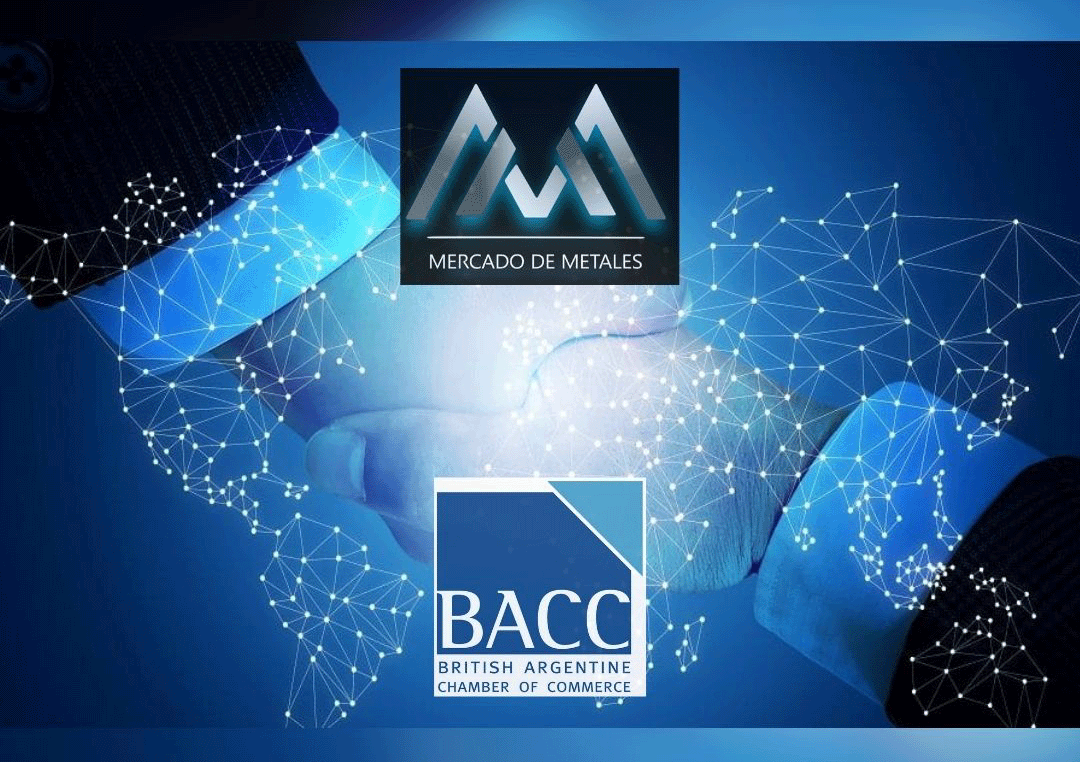 #BACC #MMARG #UnitedKingdom #Minning #Lithium #litio
The British Argentine Chamber of Commerce based in London and Mercado de Metales y Futuros SA have recently signed a cooperation agreement by which both organizations will work in a strategic partnership towards programmes focused on training and education in economics, public policy and research.
Lic. Pablo Rutigliano, founder and president of Mercado de Metales, thanked Susana Ecclestone – Executive Director of the BACC- for the chamber's interest in contributing to the real economy through tokenization of the mining reserves in Argentina, achieving synergy and evolution on the growth of the macroeconomy.
"We are very happy to be able to contribute to these challenges new technologies applied to the economy can present, particularly when oriented towards early projects and SMEs, allowing the proper framework for a future of integration and modernization of new alternatives for the creation of employment and added value" said Pablo.
LATAM LITHIUM: ALBEMARLE ABOGA PARA QUE LOS ALTOS PRECIOS DEL LITIO IMPULSEN EL CRECIMIENTO DEL SECTOR DE LOS VEHÍCULOS ELÉCTRICOS
#Electromovilidad #Litio #Albemarle #PreciodelLitio #VehiculosElectricos
Albemarle Corp pidió el martes que los precios del litio se mantengan altos indefinidamente para ayudar a la industria minera a desarrollar nuevas fuentes del metal de las baterías de los vehículos eléctricos (VE) y alimentar la transición a la energía verde. (más…)
CHINA, UN COLOSO A LA CAPTURA DE LA INDUSTRIA MUNDIAL DEL LITIO
#China #Litio #bateriasdelitio #Electromovilidad #Argentina #Bolivia
El gigante asiático invierte en los mayores productores de oro blanco del mundo y está extendiendo su influencia en los países que cuentan con reservas sin explotar, como Argentina y Bolivia. (más…)
BOLIVIA PROFUNDIZA SU ACERCAMIENTO A CHINA: ELIGIÓ AL GIGANTE DE LAS BATERÍAS CATL PARA LA EXPLOTACIÓN DE LITIO
#Litio #Bolivia #Ylb #SalardeUyuni #Catl #BateriasdeLitio #Electromovilidad #LiNews
El convenio podría ayudar a desbloquear el enorme potencial del país sudamericano e impulsar el cambio global a vehículos eléctricos. (más…)